Bo Grønbech: He struck chords that reverberated in every human breast
Tributes and mourning
That was his last journey abroad. He had cancer of the liver, and it was plain to everyone what lay ahead. But death was slow to come, and he lived to experience his seventieth birthday on April 2, 1875. Perhaps it was the expectation of that which kept him going, and he was not disappointed. The day proved an orgy of tributes from far and near: flowers and telegrams from places at home and abroad, deputations from Odense and Copenhagen, a special audience of the King and Queen, a gala performance at the Royal Theatre. He was feted privately with a big dinner party at the Melchior's.
The day gave him great pleasure but exhausted him terribly. He was failing. Two months later he was so weak that the Melchiors moved him to their villa on the outskirts of Copenhagen. His condition was hopeless. Death occurred on August 4. The preceding days he was happy and easy in his mind and free from pain, and finally he slipped quietly and imperceptibly into unconsciousness.
The funeral took place from Copenhagen Cathedral on August 11, with avast attendance and official honours. It reflected his position in life like a mirror. No relatives followed him, for he had none. Nearest the coffin, however, sat the King and the Crown Prince and his personal friends, together with a number of foreign ambassadors, Danish ministers and deputations from the city councils of Odense and Copenhagen. In the choir stood the students with their banners; along the side walls representatives of many societies. Friends bore the coffin from the church, the students following immediately after. No family mourned for him. It was Denmark that mourned. In the harbour and its approaches every ship's flag was at half-mast.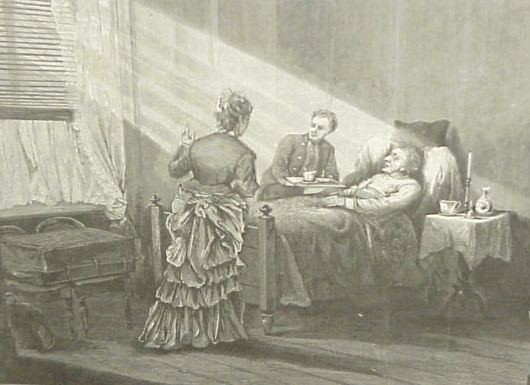 Andersen on his death bed at "Rolighed", the country house of the Melchior family in North Zealand.
The obituaries in the Copenhagen press contained only respect and praise for the man and his works, as was reasonable. Berlingske Tidende carried a detailed assessment of his achievement as a writer, emphasizing his rich and gentle humour, his imagination and the keen eye for the small and characteristic which found so natural expression in the fairy tales. 'He never lapsed into any dry allegory, for his fairy tales did not come by way of abstraction; he saw the characteristic in concrete things and gave it form in accordance with his sovereign creative will.' In this genre he was a great psychologist. 'His words, chosen with great precision, always hit the nail on the head.' Another newspaper wrote that Andersen had known how 'to strike chords that reverberated in every human breast.'
These words are valid to this day. Hans Christian Andersen's writing is still alive. The centenary of his death reminds us what we owe to him.
The author:
Bo Grønbech, born 1907. Since 1934, lecturer in Copenhagen. 1945 dr phil. 1948-49 travelling lecturer for the Swedish society Foreningen Norden. Since 1946, lecturing in Denmark, Sweden and Germany and, in 1962, in the United States of America. Study visits to France, Italy, Sicily, Greece and Constantinople. Member of the Board of the Hans Christian Andersen Society in Copenhagen since 1946, Chairman since 1961. Awarded a grant by the Hans Christian Andersen Foundation in 1965.
His extensive production includes: H. C. Andersens Eventyrverden (The Wonderland of Hans Christian Andersen) 1945; H. C. Andersen, levnedsløb, digtning, personlighed (Hans Christian Andersen, Life, Poetry, Personality) 1971.
Foto:  Lars Bjørnsten Odense