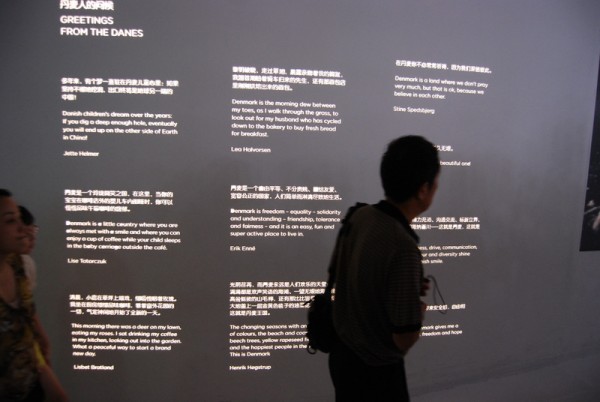 Hilsner fra danskerne, således som det så ud i Kina. Foto Lars Bjørnsten Odense 2010
Greetings from the Danes
Jette Helmer
Danish Children's dream over the years: If you dig a deep enough hole, eventually you will end up on the other side of Earth in China!
Lise Tatarczuk
Denmark is a little country where you can  enjoy a cup of coffee while your child sleeps in the baby carriage outside the café.
Lisbet Bratland 
This morning the was a deer on my lawn, eating roses. I sad drinking my coffee in my kitchen, looking out into the garden. What a peaceful way to start a brand new day.
Lea Halvorsen 
Denmark is the morning dew between my toes, as I walk through the grass, to look out for my husband who has cycled down to the bakery to buy fresh bread for breakfast.
Erik Enne'
Denmark is freedom – equality – solidarity and understanding – friendship, tolerance and fairness- and it is an easy, fun and super active place to live in.
Henrik Høgstrup 
The changing seasons with an array Of colours, the beach and coastline, Beech trees, yellow rapeseed fields And the happiest people in the world. This is Denmark
Stine Spedsbjerg
Denmark is a land where we don't pray Very much, but that is ok, because we Believe in each other.
Bjørg Jacobsen 
The Danish sky is so beautiful and It goes on forever.
Mona Mortensen 
Openheartedness, drive, communication, creativity, humour and diversity shine through the Danish smile.
Dott Hillev
Beautiful little Denmark gives me a feeling of security, freedom and hope for the future.
– Ovenstående er citater, som lyttere på Danmarks Radio P4 har indsendt i en konkurrence om at beskrive det bedste ved Danmark på en kort, inspirerende og original måde. Teksterne er fundet, som opslag i den danske pavillon på EXPO 2010 i Shanghai Kina. Foto. Lars Bjørnsten Shanghai 2010